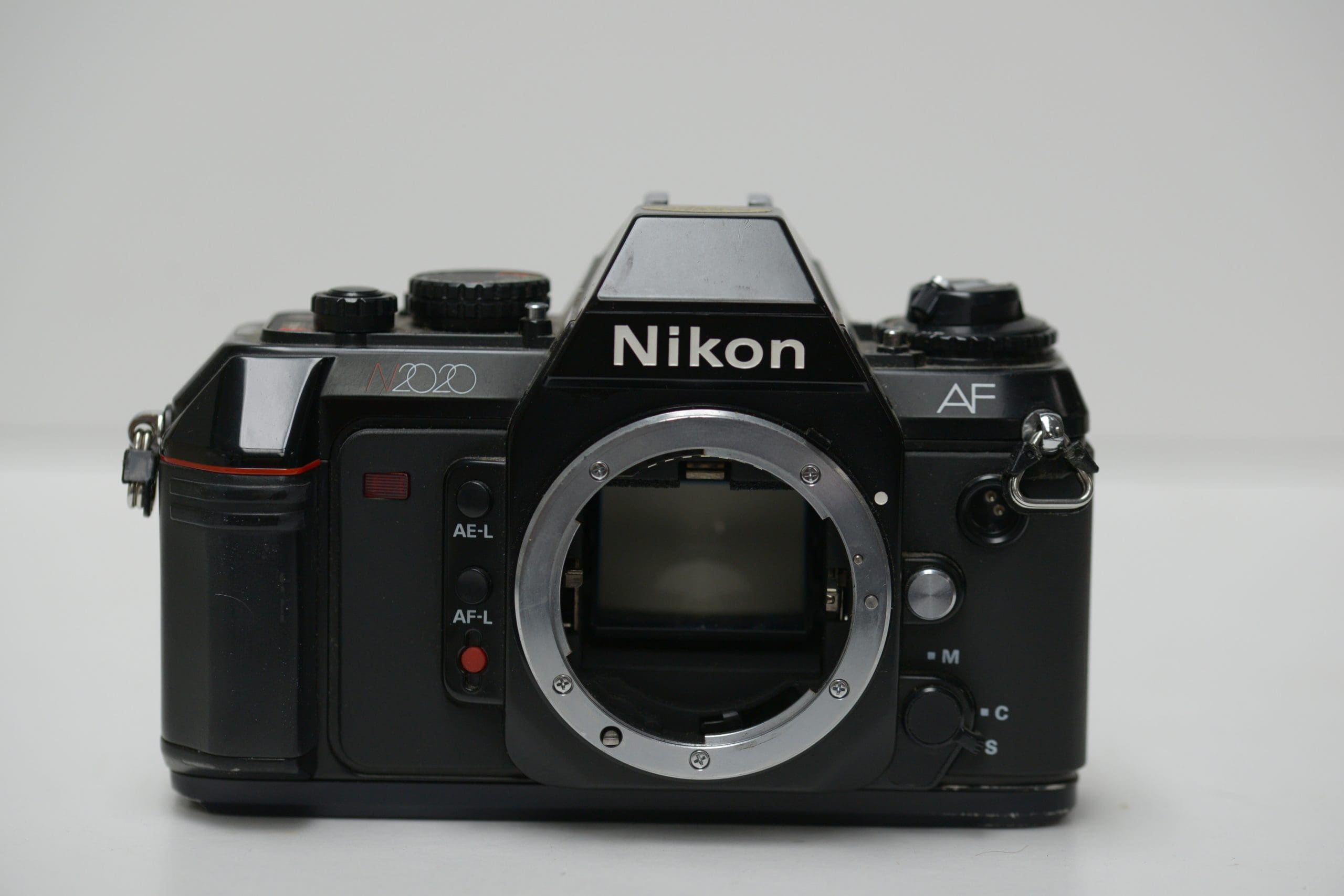 Nikon N2020 35mm (Camera Body)
35mm film SLR
Auto Focus
DX Coding ISO
Refurbished
Tested & Fully Working
Nikon N2020 35mm (Camera Body) Overview
This is a listing for a refurbished Nikon N2020 35mm film SLR camera body.
Condition: This camera has been refurbished to full working condition. Tested and working perfectly. Light seals are excellent. Body is in good shape. Some minor cosmetic marks from normal use. Viewfinder is clean. Working light meter. Working Auto Focus.
Same as N2000, with AF capability. First AF camera in the new N series. New body design featuring right side hand grip and built-in motor winder. Match LED manual metering, program AE (normal, "HI" and "DUAL" modes), aperture priority AE, TTL OTF flash metering with dedicated speedlights. Center-weighted metering pattern, AE hold, AE compensation, dedicated hot shoe. Shutter speed range: 1 sec to 1/2000 plus B (B in manual metering mode only), self timer. ISO film speed range 12-3200 when set manually, auto DX coding range 25- 5000. Auto film load, and advance (2.5 fps), manual rewind. Removeable back (optional acc. back MF-19 for date/time stamping). Flash ready light and shutter speed info visible in VF. Electronically controlled shutter speeds, stepless in auto modes. Recommended flash: for TTL auto and programmed TTL auto: SB15, SB-16B, SB-18, SB-20, SB22. Other flash: SB-21B (TTL auto and manual only). Optional items: Remote Control Cord MC-12A, MB-3 Battery Holder (4-AA), AR-3 Cable Release.